[This unedited press release is made available courtesy of Game Developer and its partnership with notable game PR-related resourceGames Press]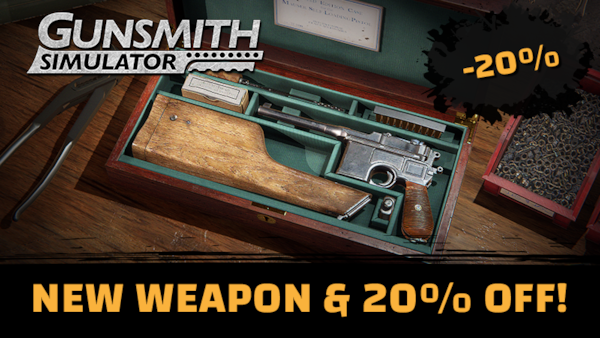 Game Hunters, the team behind the hit Gunsmith Simulator, shows no signs of slowing down and delivers an exciting update for their gaming community. The game, which made its grand debut on July 19th, garnering positive reviews and achieving an 85% rating on the Steam platform, is now 20% cheaper!
The latest attraction for fans is the introduction of the Mauser C96 into the game, also known as the "Broomhandle Mauser." It's a true legend among pistols, designed and produced by the German company Mauser from 1896 to 1937. This semi-automatic pistol stands out not only for its unique appearance but also for its impressive accuracy and firepower.
But that's not the end of the good news! The game developers have also prepared a special offer – a 20% discount on the purchase of Gunsmith Simulator. It's the perfect time to join this exciting adventure.
What's more, playtests will be available in the coming week, allowing players to check out the new features that will be introduced in the game. Details will be provided soon.
Any questions and inquiries can be directed to the email address: [email protected]. The Game Hunters team is ready to respond to all media inquiries.
See you soon in the virtual workshop!