[This unedited press release is made available courtesy of Game Developer and its partnership with notable game PR-related resourceGames Press]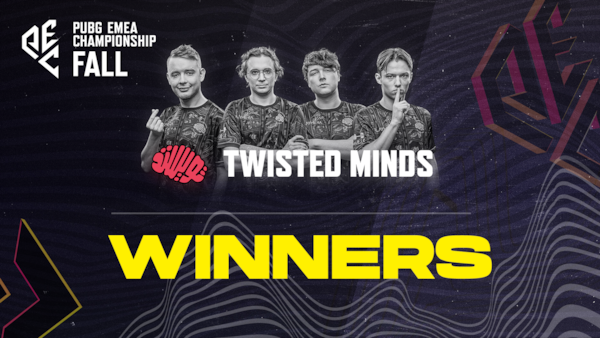 AMSTERDAM, NETHERLANDS – October 23, 2023 – KRAFTON, Inc. has announced Twisted Minds are the PUBG EMEA Championship: Fall winners. On Sunday 22 October, the roster, comprised of Aleksandr "BatulinS" Batulin, Kirill "Lu" Lukyanov, Dmytrii "Perfect1ks" Dubenyuk, Yaroslav "spyrro" Kuvichko, defeated 15 other squads after three days of relentless action to claim the top prize of $25,000 from the $100,000 prize pool. Twisted Minds had already earned a spot at PUBG Global Championship 2023 (PGC 2023) based on their PUBG Global Series (PGS) performance. Six other EMEA teams – FUT Esports, FaZe Clan, Acend Club, HOWL, Question Mark, and Exalt – will also be joining the fight for the chance to be crowned PGC 2023 champions.
Point Sponges and The Midpack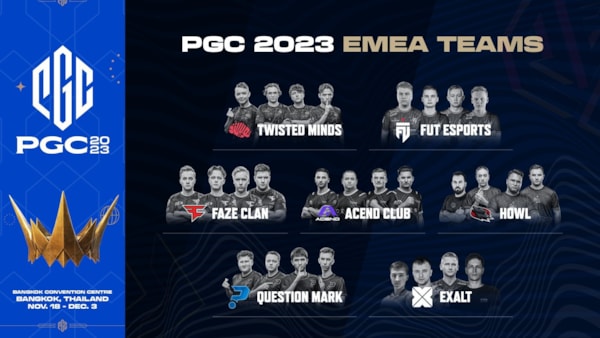 PEC: Fall Grand Finals consisted of 18 matches played over three days. Twisted Minds and FaZe shot to the leading positions on Day 1 and maintained their lead throughout the weekend. By the end of Day 2 it was all but clear that the two leviathans were out of reach for the rest of the teams but there was still everything to play for in the very tight midpack. PEC: Fall was the last chance to earn PGC points for all the EMEA teams and even a slight movement up or down the final leaderboard could have been the difference between going to Bangkok to fight another day or sitting this one out.
In a valiant and spectacular effort, FUT Esports climbed from 8th position to 3rd on the final day, displacing Question Mark. Both teams qualified with rather comfortable margins, as did Acend. The fates of HOWL and Exalt were a little less clear and determined until the very final moments. Even though they placed 14th and 16th on the leaderboard, the rosters made it through to PGC on the virtue of PGC points they had accumulated earlier this year, as well as some of their competitors falling short in the last few matches of the tournament.
PGC 2023
From November 18 to December 3, more than 128 players from the 32 elite global teams will battle relentlessly, aiming for the prestigious championship throne. PGC 2023 will have a live audience for the entire tournament, hosted at the Bangkok Convention Centre (BCC Hall) in Thailand. More information about tickets and various on-site community events to follow shortly.
For all PUBG Esports updates, please visit the official website at www.pubgesports.com or follow us on social media: YouTube, Twitter, Instagram, Twitch and TikTok
More details on PUBG: BATTLEGROUNDS, are available atwww.pubg.com and on official social media channels: YouTube, Twitter, Instagram, Facebook, Twitch, TikTok.
-ENDS-
About KRAFTON, Inc.
Based out of South Korea, KRAFTON, Inc. is a collective of independent game development studios bound by a passion for creating innovative and engaging entertainment experiences for gamers worldwide. Founded in 2007, KRAFTON consists of PUBG STUDIOS, Bluehole Studio, RisingWings, Striking Distance Studios, Dreamotion, Unknown Worlds, 5minlab, Neon Giant and KRAFTON Montréal Studio, each with its own unique expertise.KRAFTON is responsible for premier entertainment properties, includingPUBG: BATTLEGROUNDS,The Callisto Protocol,NEW STATE MOBILE,Moonbreaker,TERAandELYON. With a team of 3,000 members across nine countries, KRAFTON is a technology-driven company that boasts world-class capabilities as it seeks to expand its areas of business beyond games to multimedia entertainment and deep learning. For more information, visitwww.krafton.com