[This unedited press release is made available courtesy of Game Developer and its partnership with notable game PR-related resourceGames Press]
Marvelous Europe and XSEED Games today announced a Digital Deluxe Edition for Cuisineer, the upcoming food-focused action roguelite releasing this Nov. 9 on Windows PC via Steam. In addition to the full game, the Digital Deluxe Edition contains a Digital Artbook giving players a comprehensive look at the art and design of Cuisineer, packed with early concepts and tasty behind-the-scenes morsels from the development team and the Digital Soundtrack featuring a full hour of cute and funky bops to live, love and eat to.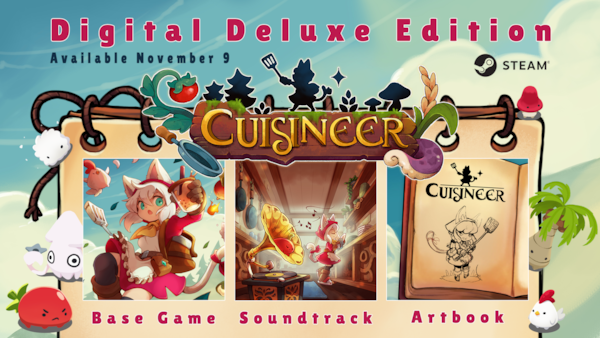 The Digital Deluxe Edition will be available at launch for $39.57/€39.57. A standard edition will also be available for $24.99/€24.99, and a 10% discount will be available for both versions on the week of launch.One day, Pom returns to her hometown of Paell to see her parents only to find their restaurant closed for business and deep in debt. Now, she must re-open the restaurant and make it thrive. To collect ingredients from the land Pom pursues adventure in the world outside Paell, wielding her cooking utensils against giant chickens, artillery shrimps, fire-breathing peppers, and other pesky perils, sipping boba tea along the way. Cook up a frenzy and grow the derelict eatery into a sensational restaurant that will make Pom's parents proud.Developed by BattleBrew Productions and co-published globally on Windows PC via Steam by Marvelous Europe and XSEED Games, Cuisineer will be released on Nov. 9, 2023, for Windows PC via Steam. To keep up to date with the latest on Pom please visit the official Cuisineer Twitter channel or wishlist the title on Steam. This title is not rated for PC by the ESRB.More information about Marvelous Europe can be found on the official website at www.marvelousgames.com or @marvelouseurope across Twitter, Facebook, Instagram or YouTube.More information about XSEED Games' products can be found at www.xseedgames.com. Fans can also follow XSEED Games on Facebook, Twitter, Instagram, Twitch, or join the discussion on their Discord server at: http://discord.gg/XSEEDGames.
###
Media Contact:Sonia Im | Marc BianchiONE PR Studio [for XSEED Games/Marvelous USA, Inc.][email protected]Decibel-PR [for Marvelous Europe][email protected]