[This unedited press release is made available courtesy of Game Developer and its partnership with notable game PR-related resourceGames Press]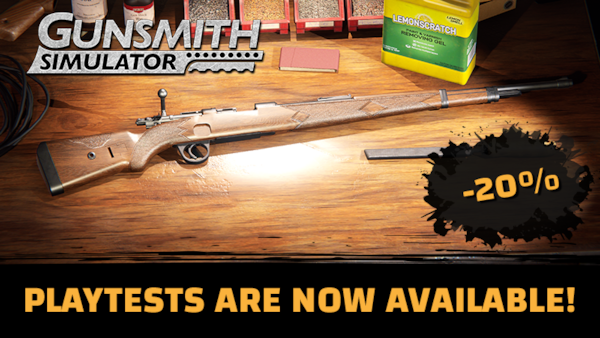 The creators of the game Gunsmith Simulator, the Game Hunters team, are not slowing down and are delivering another treat for all gamers. As previously announced, playtests of the latest changes soon to be introduced to the Early Access version are now underway! Access will be available on Friday, October 13th at 4:00 PM CEST (2:00 PM GMT).
During these playtests, players get a chance to experiment with two brand-new mechanics: wood customization and crafting weapons from scratch. Upon starting the game, every participant receives two cases, each containing a sample weapon. However, the possibilities don't end there! Players can also create a third weapon from scratch, using available parts or crafting new ones.
It's worth noting that during the first 24 hours, playtest access is open to anyone who wishes to join. This is an excellent opportunity to be part of the community and test this game before its official release.
The game has received tremendous support and enthusiasm from players so far, for which the Game Hunters development team is extremely grateful. The playtest phase is another step in the game's development, and the creators of Gunsmith Simulator eagerly await further feedback from the community to see how the new mechanics perform in the game!
Gunsmith Simulator playtests will be available on the STEAM platform.
For any additional questions, you can contact via email: [email protected]. The team will be happy to respond to all messages!
Enjoy the game!